Medical practices must comply with patient portal regulation requirements.

Updated 2018

If your medical practice's website doesn't have a compliant patient portal, you could face penalties for violating federal regulations.  
Why Would Your Medical Practice Be Penalized?
A 2009 federal law offered incentives that encouraged medical practices to adopt electronic medical records. These incentives gave money to Medicare or Medicaid providers who made specific progress toward forming certified electronic medical records between 2011 and 2015.
Medical practices that did not adopt electronic medical records between 2011 and 2015 are now vulnerable to legal penalties. Integrating a patient portal on your medical practice's website is an essential step toward regulation compliance, helping to avoid burdensome penalties. 

If your medical practice hasn't implemented certified electronic medical records, then you'll face a reduction in your Medicare/Medicaid reimbursments each year. These reductions in Medicare/Medicaid reimbursements increase over time.

Does your medical practice website fulfill your regulatory requirements?

One of our knowledgeable analysts can discuss your requirements with you. Our analysts will also provide you with specific steps that you may need to take to make your website compliant with federal regulations. 

To Speak with an ACS Web Design and SEO Analyst About Regulatory Requirements for Your Website,Call Us at 315-451-5405


What is a Patient Portal?
A patient portal provides patients with secure online access to parts of their medical record. Patient portals also provide health information and services that help patients better look after their health, such as exchanging messages with care providers, refilling prescriptions, completing forms online, paying bills and scheduling appointments.
Since these patient portal requirements have taken effect, ACS Web Design and SEO has been the relied upon partner for regulation compliant, custom medical website design. 

Our experienced team of web developers, web designers and usability experts can help make your medical practice website regulation compliant. 
To integrate a patient portal on your website, and to comply with federal requirements...
What Your Patient Portal Needs
The law doesn't specify patient portals, but patient portals are the only means to fulfill many of the requirements. The law establishes Stage 2 meaningful use requirements. Stage 2 meaningful use requirements include 17 required features and 6 additional features that must be included in certified electronic health records.
These features are applicable to the entire electronic health record, not just features that are applicable to the patient portal. Medical practices must implement 3 of the 6 additional features, with medical practices being able to choose which three are best for their patients.
The 17 mandated features, or "core objectives" include:
Computer entry for all orders. "Orders" are defined as medications, consultations with other providers, lab services, imaging studies and "other auxiliary services."
Electronic prescriptions
Demographic information gathering limited to: preferred language, sex, race, ethnicity, date of birth.
A record of a patient's changes in: height and weight, blood pressure (ages 3 and over), body mass index (BMI) and growth charts for patients 0-20 years, including BMI.
Smoking status for patients 13 years or older
Patient-specific information that will help patients care for important health conditions
Viewable, downloadable and transmittable health information that's available within 36 hours after being discharged from a hospital
Clinical summaries for patients after each office visit
Protection for all patient portal information
Clinical lab test results
A list of patients organized by specific conditions.
Preventative and follow-up care reminders for patients who need reminded. Determining which patients need reminders is based on the provider's judgment, which must be based off "clinically relevant information."
Identifying and providing patient-specific education resources based off electronic health record information
Medication reconciliation, which is defined as gathering a list of all medications used by a patient and comparing the list to a list of medications from a patient, hospital or other care provider. This only needs to be done when a health care provider receives a patient from another place or provider, or when a provider considers medication reconciliation necessary
Providing a "summary of care" whenever patients are referred to another care facility or care provider, or when a patient switches doctors.
Submitting immunization information to immunization registries, excluding when doing so would violate existing law.
Secure electronic messaging between patients and providers
The 6 additional electronic health record features, or "menu objectives" include:
The ability to electronically submit "syndromic surveillance data" to public health agencies when doing so won't violate existing laws. Syndromic surveillance data refers to health data for the purpose of preventing or addressing public health crises, such as epidemics.

Electronic notes about patient progress. These electronic notes go on patient records.
Imaging results, including the image itself and relevant explanations or information.
Patient family health history
Identification and reporting of cancer cases to the public health cancer registry, except when doing so would violate existing law.
Identification and reporting of specific cases other than cancer to the public health registry, except when doing so would violate existing law.
Medical practices are required to report their fulfillment of these requirements to the government. Additionally, patient portals must be used by at least 5% of your patients. This requirement exists to prove that your patient portal has "meaningful use."

Does Your Medical Practice Website Violate Federal Requirements? 

Contact Us for a Free Evaluation

Patient Portal Benefits
In addition to being a legal requirement, patient portals aim to improve patient-provider communication and patient education. This makes patients more informed about their health, making office visits more productive and beneficial for patients and providers, as well as improving care.
Get Your Secure, Regulatory-Compliant Patient Portal
The law requires that 5% of your patients use the patient portal. If you're going to fulfill this requirement, your patient portal must be secure and easy to use. ACS, Inc. Web Design & SEO's usability experts prioritize user-friendliness. Our team also understands the critical importance for patient portal security, and are experienced in developing secure sites.
CRA Medical Imaging is just one of the many medical website design projects that ACS Web Design and SEO developed with specific considerations for regulatory compliance.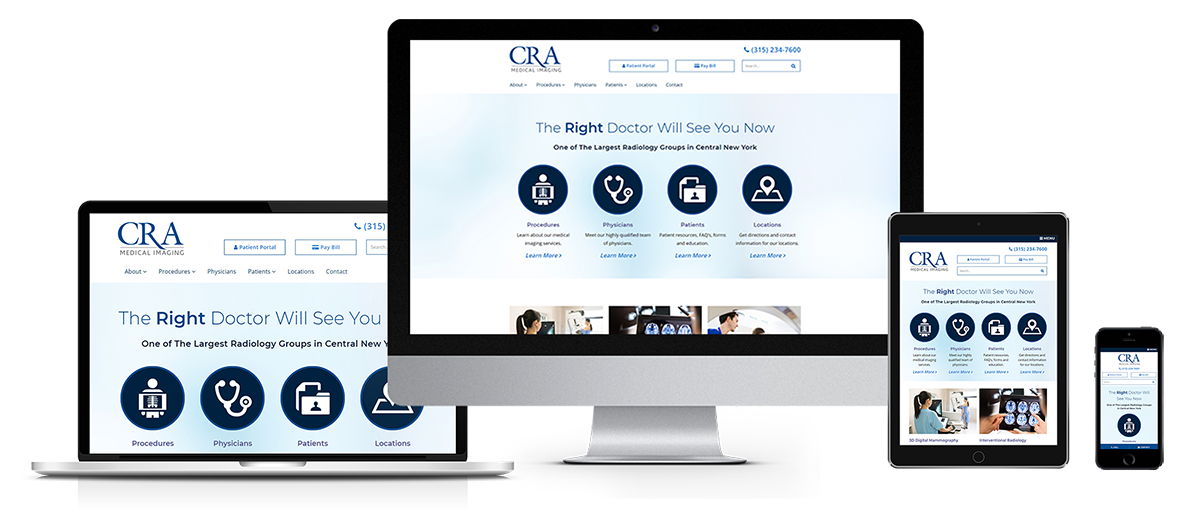 ACS Web Design & SEO is also experienced in developing secure, easy-to-use patient portals. Our team successfully developed a secure, regulatory compliant patient portal for Associated Medical Professionals (AMP).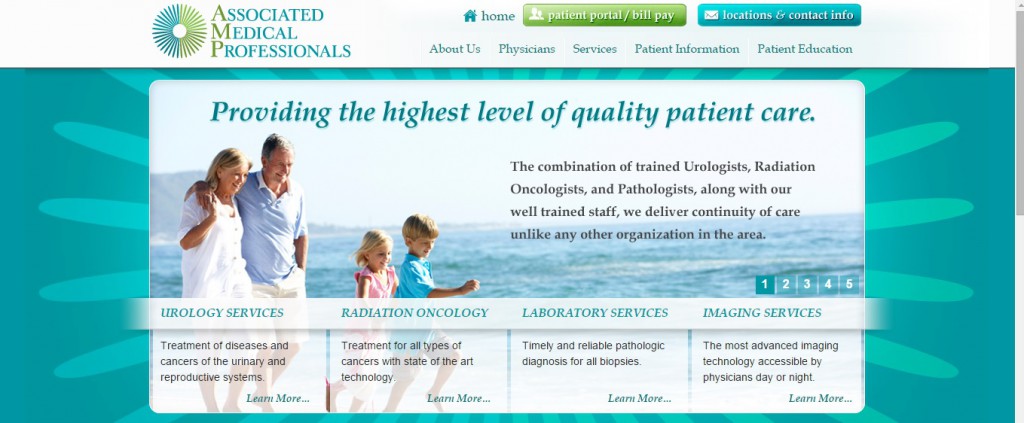 AMP's patient portal is easily accessible and secure.
If your medical practice website doesn't have a patient portal, then your organization could be penalized at any time for failing to comply with federal regulations. 

For your regulation compliant patient portal...