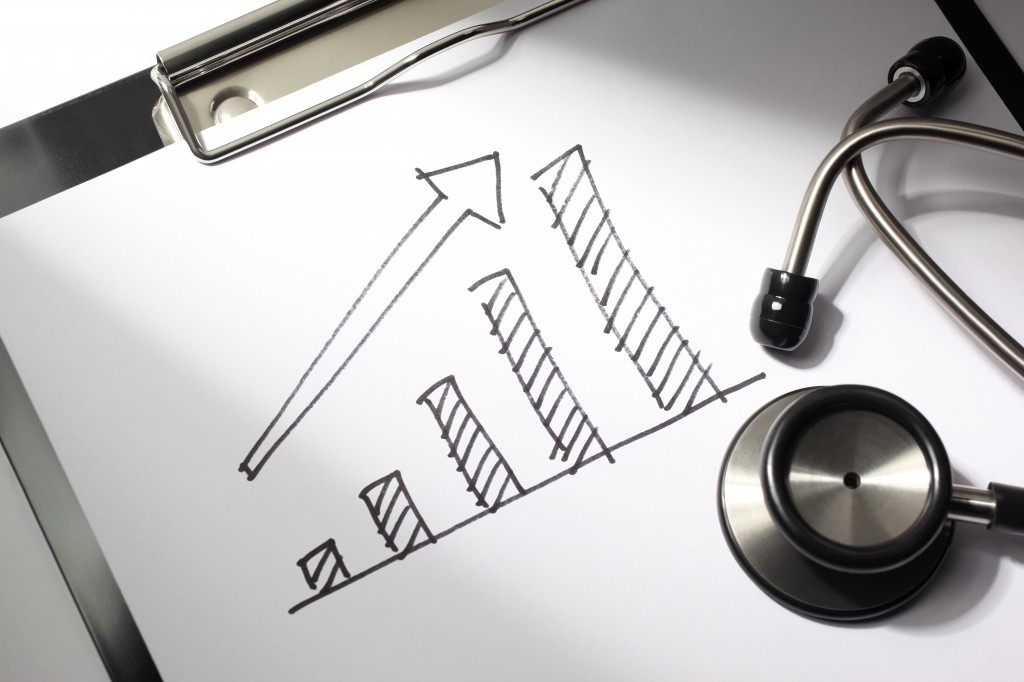 Watch your Medical Practice increase with our targeted SEO strategies.
How SEO can help with Medical Marketing
The Lasting Value of Search Engine Optimization in the Medical Field: SEO from ACS, Inc.
As an ongoing part of our Internet Marketing services at ACS, Inc., our team of SEO Specialists and Digital Marketing Analysts continually monitor our clients' websites, looking for keyword ranking opportunities and improvements. Our On Page optimizations such as keyword focused edits to page content, coupled with Off Page optimizations such as Meta Data updates, work together to create lasting results for our clients.
Position yourself as an Industry Expert
According to a recent study, 80 percent of American web users say they rely on online information when choosing their healthcare products and services. This means that there is a huge opportunity in the Medical industry to draw in these potential patients with a well designed and fully optimized website.
"I don't know, but I will do some online research" is often the mindset of people who have health questions. You want your medical website to be able to answer these questions, by becoming a resource for industry information in the health and medical fields. A well optimized medical website should be able to answer relevant health questions potential patients will be searching for, drawing them in via the search engine results page and funneling them through the site to the "Contact Us" or "Request an Appointment" page. Besides being optimized for relevant search queries, having answers to many common questions on your website also saves time for your business; now you won't have to be fielding calls answering questions, as you can point callers to your "Frequently Asked Questions" section on the website.
In order to capitalize on this healthcare related search traffic and draw in qualified searchers and potential new patients, your website needs to be optimized for relevant medical terms in your industry.
Valuable SEO Results that Last
To draw in this healthcare related search traffic and get potential patients to your website, you need to have quality On ­Page content, and that's where the Internet Marketing team at ACS, inc. comes in. ACS, inc. Web Design & SEO maintains long standing partnerships with clients in the Medical Imaging, Home Care, Orthopedics, Pharmacy and Pediatric fields; creating individualized internet marketing plans customized to target their desired patient demographics and increase their patient lead numbers.
As part of our monthly SEO strategies, our Internet Marketing team performed On Page optimization updates to a service page for a client in a Specialized Surgery field back in February 2016. Four months later, in June 2016, we are continuing to monitor the success of these On Page SEO edits -seeing many of the keywords we optimized for 90 days prior make their way onto the first page of Google when searched in the client's geographic service area, some of which were not previously indexed by Google.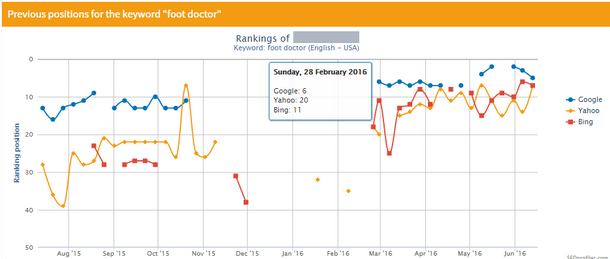 How Does Google Indexing Work?
Google discovers information about websites by crawling the web and leaning information about publicly available websites. They organize this information by indexing these sites and storing the information about their content, much like how the index at the back of a book works. As detailed in the chart above, one of the primary keywords we were targeting for a client was not even indexed prior to these On Page changes made in February 2016. This means there was likely not enough written content on the page for Google to crawl. After our optimization efforts, this keyword moved all the up to the first page of Google, ranking as high as position #2 for several days, suggesting success of our keyword strategy. Once our SEO Specialists added the relevant content to the webpage, Google was able to crawl and index this site, deciding that it was a valuable resource for searchers and making it highly visible in the search results page, or SERPs.
Achieving first page positioning on Google is very valuable, as over 90% of Google searchers click through from first page results. According to a recent study, the top three organic results on Google (organic meaning not paid) receive 61% of clicks from searchers. Achieving and maintaining these top positions on Google for service terms optimized ninety days prior highlights the value of our Internet Marketing efforts. In a highly competitive landscape, with many similar medical sites vying for these same positions, it takes well placed, keyword-focused On Page optimizations, as well as proper SEO maintenance to gain top positioning on Google, and more importantly remain at these top positions. Our SEO services have proven, long lasting and sustainable results for our clients, as once a keyword strategy is fully enacted, the client will continue to benefit from the results for the lifetime of the site with the proper support and maintenance.
How does this Ranking Visibility translate into Site Traffic?

Getting your site to reach the first page of Google has more benefits besides just greater visibility. The above chart shows the increase of sessions to the target service page since the launch of our On Page content optimizations. The blue line shows the sessions to the site from Feb 1, 2016 ­ May 31, 2016. The orange line shows the amount of sessions during the same time period in 2015, for comparison purposes. This upward trend in sessions indicates success from our On Page optimizations to this page. Since we implemented our keyword strategy in February, you can see an increase in the number of sessions to the client's website all the way up until June 2016. This can work for your website as well ­ as the rankings for your target page begin to improve in the Google search engines, you will start to see a correlating upward trend in traffic to your website.
Ready to start seeing Results? Talk with the SEO Experts in Syracuse, NY
ACS, Inc. Web Design & SEO has over 17 years experience working in Web Design, Medical Marketing, Social Media Marketing and Search Engine Optimization. We have helped many clients in the Medical field use the web to its full potential, including achieving 1st place and 1st page positions on search engines for valuable service keywords.
Talk with us today about how our SEO and Internet Marketing services can help your organization achieve long lasting search visibility results.