What is a "Google Partner" Company?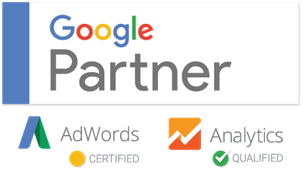 Google Partners is Google's program for advertising agencies, digital marketing professionals, and other online consultants who manage AdWords accounts.
When an online marketing firm achieves Google Partner status, it means that company has demonstrated AdWords skill and expertise, continuously meets Google ad spend requirements, has proven client revenue growth, and is able to sustain and grow its client base.
"The Google Partner badge shows that specific Partners have passed Google AdWords product certification exams and are up to date with the latest product knowledge. In other words, they earned it" - Google Partners summary.
Having worked in the web design and digital marketing fields for close to 20 years, ACS, Inc Web Design & SEO always strives to stay on the forefront of the latest industry news and best practices. As a Google Partner company, we ensure all digital marketing team members are certified in their respective fields of search, mobile and display advertising. Google ensures that these certifications are current and that the company continues to meet Google's standards for account management best practices.
Benefits of working with a Certified Google Partner

Advance Account Management & Proven Results. When you work with ACS, Inc., you are working with a team of Certified Analysts and AdWords Account Managers. In order to achieve Google Partner status, your company has to have a number of employees with Google Adwords certifications managing their clients' accounts. The company must also meet Google's performance requirements by delivering solid overall ad revenue and growth.
Get an Edge over your Competitors. Google AdWords and Google Analytics IQ certifications expire, which means our team members have to stay up-to-date on all industry news and refresh their knowledge yearly in order to stay certified in their field. When you work with us, you get certified account managers handling your digital marketing campaigns. Our Account managers have access to the newest paid search updates from Google, which gives you an edge over your competitors.
Specialized campaigns from our Specialists. Besides being certified in AdWords and Google Analytics, our team members also specialize in a variety of paid search certifications; including AdWords Video, AdWords Search, AdWords Mobile and Adwords Shopping. These unique specializations allow us to run innovative and personalized campaigns for our clients, targeting their specific audiences on the platforms they use.
Start your Partnership with our Expert Digital Marketing Team Today!
When you work with ACS, Inc., you work with a team of qualified specialists who are dedicated to, and passionate about, proven results & success for our clients. Let's chat about how we can increase your visibility online and bring in qualified leads!