What does your brand say about your business? Is your website an accurate online representation of your brand?
These were the challenges that Oswego County Federal Credit Union faced.
Oswego County FCU has been an established, trusted part of their local community for more than 40 years. However, it's important that an organization's website doesn't look as old as the business.
Understanding the importance of their online presence, Oswego County FCU partnered with ACS, Inc. Web Design & SEO for their new credit union website design.
We are excited to announce the launch of the new Oswego County FCU website.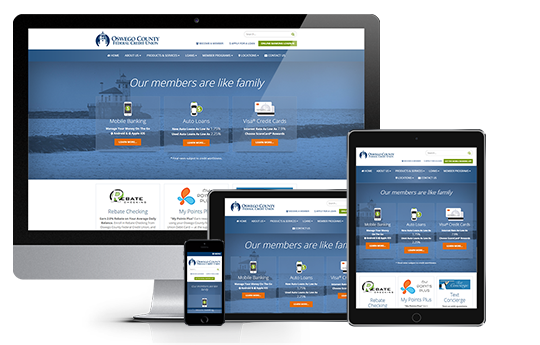 You're in the Right Place
ACS delivered a credit union website design that communicates trust while significantly improving the site's user-friendliness.
For more details on how we brought Oswego County Federal Credit Union's brand to life online with their new, user-friendly credit union website design...
Credit Union Web Design Made With Industry Best Practices

Per industry guidelines, it is best practices for websites for banks and credit unions to notify users when a link leads them to a different site.
This notification informing credit union and bank website users that a link will lead them to a different site is known as a speed bump. A speed bump is a critical element for online security. Speed bumps are helpful to prevent web users from providing sensitive financial information to third party websites.
Our experienced developers and web designers integrated a speed bump system for Oswego County Federal Credit Union's new website.
Does your bank or credit union website satisfy industry best practices with a speed bump system? ACS can make it happen.
Request a Quote for Your Web Design Project
Oswego County FCU's new website design features a custom promotion management system, a mobile-friendly, responsive website design, a company directory and a custom Content Management System (CMS) that makes website updates easy.
For a custom quote on your website design project...