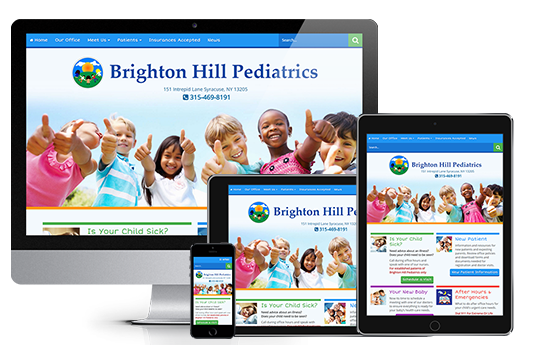 Brighton Hill Pediatrics was an existing ACS, Inc. web design client. Brighton Hill Pediatrics first ACS, Inc. designed site was made before the mass adoption of mobile devices.
In 2015, with over 60% of all web traffic coming from mobile devices, Brighton Hill Pediatrics again partnered with ACS, Inc. Web Design & SEO for an updated, mobile-friendly responsive redesign. Now, we're excited to announce the launch of the new Brighton Hill Pediatrics website.
The Project
Brighton Hill Pediatrics is a pediatric medical practice in Syracuse, NY. Partnering with ACS, Inc. Web Design & SEO for a website redesign, Brighton Hill Pediatrics' new website aimed to maintain their current site's characteristic childhood spirit while making editing site content easier. Specifically, Brighton Hill Pediatric's wanted to make it intuitive for their site's administrators to edit and add blog posts and staff profile pages.
ACS, Inc. Web Design & SEO delivered a satisfactory solution for the new Brighton Hill Pediatrics website. The new site is made with a responsive website design, making the site work equally well on mobile devices, such as tablets and phones, as well as desktops and laptops. The new site features including imagery of children and fonts similar to children's handwriting to provide the site with the intended childhood spirit. Additionally, Brighton Hill Pediatrics can now easily edit and add blog posts and staff profile pages with the integration of a secure, intuitive content management system (CMS).
To learn more about the website design solution we provided Brighton Hill Pediatrics, read the Brighton Hill Pediatrics portfolio entry here.
Who's On Your Team?
The new Brighton Hill Pediatrics website features staff profile pages that are easy to update, add and delete. Staff directories humanize companies, making it easier for potential patients, customers or clients to relate to your business. Being relatable is essential in building trust, and, in turn, generating new business.
Let's talk about how updating your website with a staff directory can help your business use the web to its full potential.