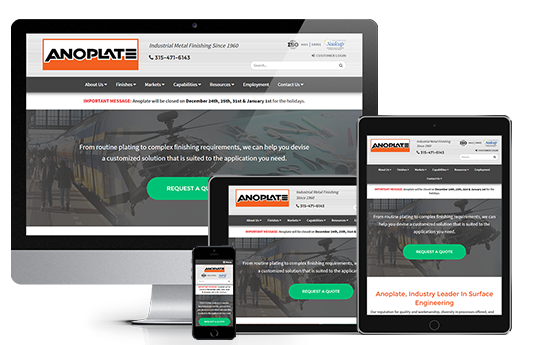 In business, experience is a testament to quality. Companies with years of experience in their industry tend to be a reliable product or service provider– a fact that's inherent in their longevity.
However, highlighting your experience and showing your age are very different messages. Prior to partnering with ACS, Inc. Web Design & SEO, Anoplate's website had a look and feel made for 1996 rather than 2016.
ACS, Inc. is excited to announce the launch of the new anoplate.com, featuring a modern, mobile-friendly look and feel, improved information architecture and more.
The Project
In addition to a modern, responsive website design, Anoplate's new website features a site structure that makes content easy to find for people as well as search engine robots. Additionally, Anoplate's new site features a custom Google search, making sought after information easily accessible.
The new Anoplate website also includes the fully featured, secure ACS Edge CMS, allowing Anoplate's site administrators to edit and add site content. This custom CMS also accommodates for quick editing of site content that impacts SEO, making Anoplate ready for the fast changing search landscape. Our team of experienced developers successfully integrated secure customer portals on the new anoplate.com, and created specialized forms, including Request A Quote forms. The new site also features dedicated landing pages that highlights Anoplate's market expertise in multiple industries. Additionally, Anoplate's new website features a company directory that makes it easy to find information about Anoplate staff, allowing visitors to find contact information for staff members by department. A custom alert system was also added to the new Anoplate website, keeping clients and vendors informed about the latest developments at Anoplate.
View our Anoplate portfolio entry, where you can view the new Anoplate website and learn more about the project.
A Searchable Solution
With Anoplate's aging site having years of earned positioning on search engines, our team of SEO professionals performed a successful SEO migration, ensuring Anoplate maintained and built upon its existing positioning on search engines.
As well as an SEO migration, Anoplate's new site features an SEO friendly site structure, empowering Anoplate to be more easily discovered by potential clients' who search for services or products that Anoplate offers.
Contact us for an SEO-friendly responsive web design.