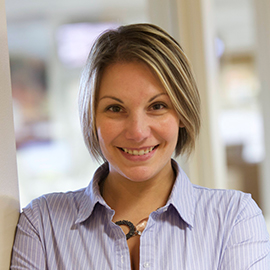 Sara Johnson has met her share of challenges working in a male-dominated industry. Sara is Director of Organizational Development at G&C Foods.

G&C Foods is a Food Service re-distributor of refrigerated, frozen and dry food headquartered in Syracuse, NY, which employs over 300 people in the CNY region.
In celebration of Women's History Month, the ACS, Inc. team spoke with Sara as part of our Profile series on CNY Business women. Sara shared with us some insights on her role as Director of Organization Development at G&C Foods, and provided some helpful tips for young people in the job market who want to succeed in business.
Empowering & Promoting Change
"I love that I have the privilege of being involved in all areas of the organization and to learn about how the employees work," Sara told us in discussing her role within the company.
"The idea is to empower and promote change, but that doesn't come easy.  I have to create opportunities to get people's attention and to gain their trust. I have a reputation for using a lot of 'disruptive innovation' to get buy-in.  Not only is it exciting and fun… it gets results."
Words such as "inspire" and "empower" seem to be a common theme in our conversation with Sara.  "I was lucky enough to have some of the most inspirational, courageous, and humorous teachers during my high school tenure," Sara told us, when describing some of her role models.
"These women (and men) taught me to embrace my uniqueness and to value the uniqueness of others. They shared their excitement in my successes and helped me gain perspective during my failures. They showed me how to be humble and how to work each day on building and sustaining relationships. I would not be the woman I am today without those teachers. If they are reading this, thank you."
It's clear that Sara is grateful for her teachers and local community programs. "I am a huge supporter of our Central New York YMCAs" she told us.
"YMCAs provide outstanding programs to our community.  My family and I participate in as many activities and programs as we can. The staff is simply outstanding. There is so much effort on their part to keep their members happy and participating. I have built lifelong relationships at the Y."
Reading also seems to have been a driving force in Sara's successful career. "Read more," Sara says when asked to offer some career advice to young people in the job market.  "It's such a valuable skill that people take for granted.  The best way to advance your way of thinking is by reading. The more you read the easier your mind generates ideas."
When asked about her favorite books, Sara was quick with her answer. "I have read and re-read The Oz Principle at least a dozen times.  I love the message that it carries.  You will no doubt be faced with colleagues throughout your career that lack the ability to own a problem and drive towards a solution. This book talks about why that is, and how to empower those people to achieve results."
Patience is a Virtue
"Be willing to start anywhere," Sara told us when giving advice to young people just starting out in their careers.
"When I finished graduate school, I thought I could walk into any company and run the place. But employers are looking for candidates that are willing to learn and have vision. That willingness comes with patience and an appreciation for self-development."
Sometimes having patience in your day to day life, or in your career, is easier said than done.  "I am a pretty impatient person and so I thought I could conquer the world in a week," Sara told us, when discussing her career path at G&C foods. "Once I realized that there was a natural order to advancement I became more strategic with my time and thus more effective in each role I had." 
Facing Challenges Head On
Sara remains positive in the face of challenges she has met throughout her career; in fact, her life motto is listed as "Be Positive!" on her staff bio on G&C's website.
In recounting her role within the company, Sara told us about some specific challenges she has met throughout her career and how she worked to overcome them. 
Working in such a traditionally male dominated industry "always comes with challenges," Sara told us.  "But if you surround yourself with high quality leaders and mentors who value your ideas, ambition, and willingness to be different, they will support you through all your challenges. People will tell you that loving what you do each day is the key to a great career."
"Truly enjoying the people you work with makes all the challenges you face that much easier," Sara added.
When the conversation turned to younger people just entering the job force, Sara shared similar insights, offering the following advice: "Talk openly about your failures."
Sara went on to say "Everyone has them. You will be hard pressed to find a great leader who has never appreciated a good failure. They create opportunity for self-reflection and change. Plus, they are endearing and relatable. "
This profile is part of an ongoing series that recognizes successful business women. For the month of March 2017, in recognition of Women's History Month, ACS, Inc. Web Design & SEO will be publishing a series of posts about inspiring CNY women business leaders.