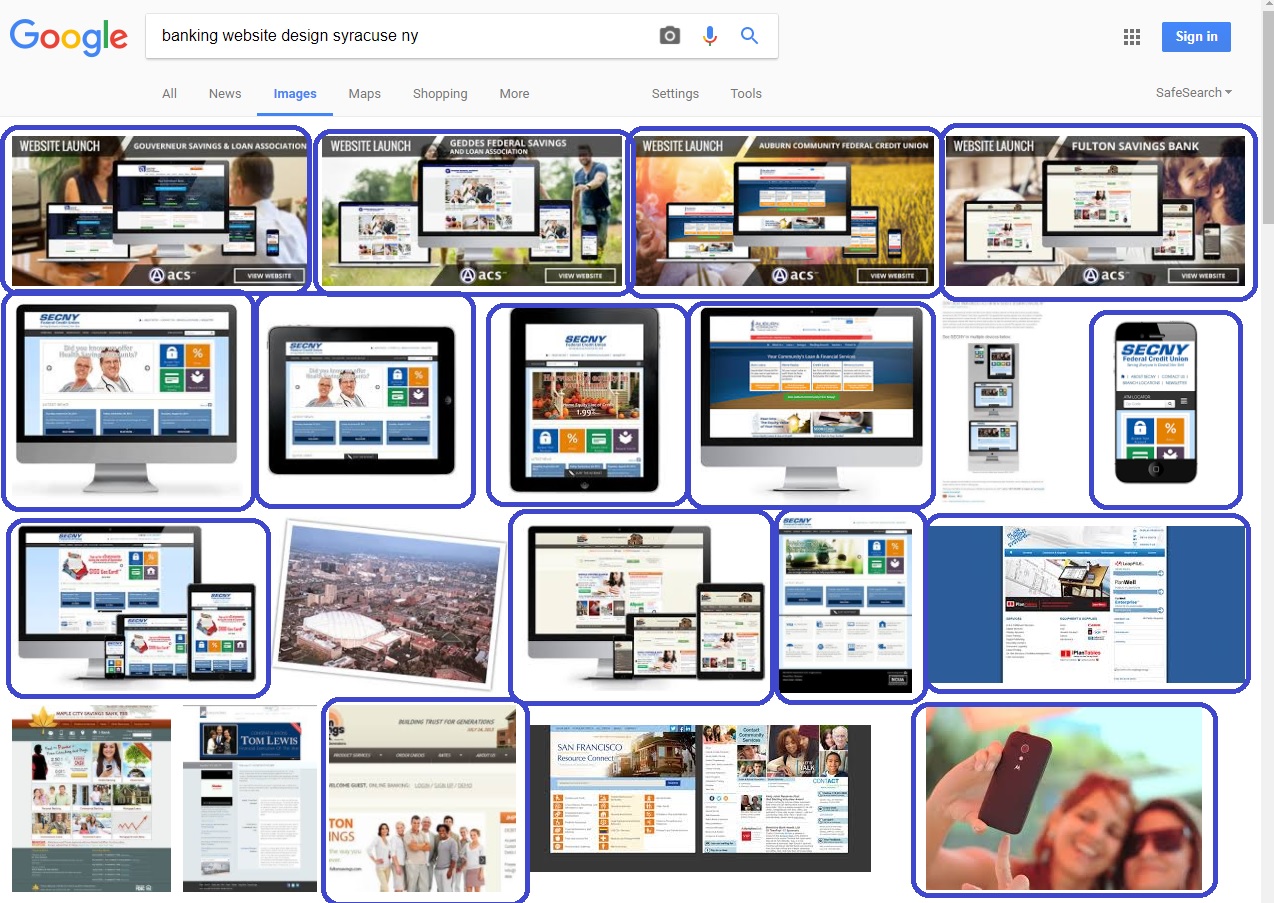 The above image is a Google image search results page for "banking website design syracuse ny." Every image from the above with a blue highlight is either a bank website design or image created by ACS, Inc. This ideal placement exemplifies the value of image SEO.

What is Image SEO?

Like other types of Search Engine Optimization (SEO), image SEO requires both behind-the-scenes and public facing optimizations that aim to achieve high positioning on search engines when relevant keywords are searched.

How Image SEO Works

Google uses over 200 ranking factors that influence a site's positioning on search engines. Similarly, image SEO requires interconnected content optimizations in order to have search engines understand what an image is about. These related content and image optimizations cause certain images to appear when people are searching for related photos.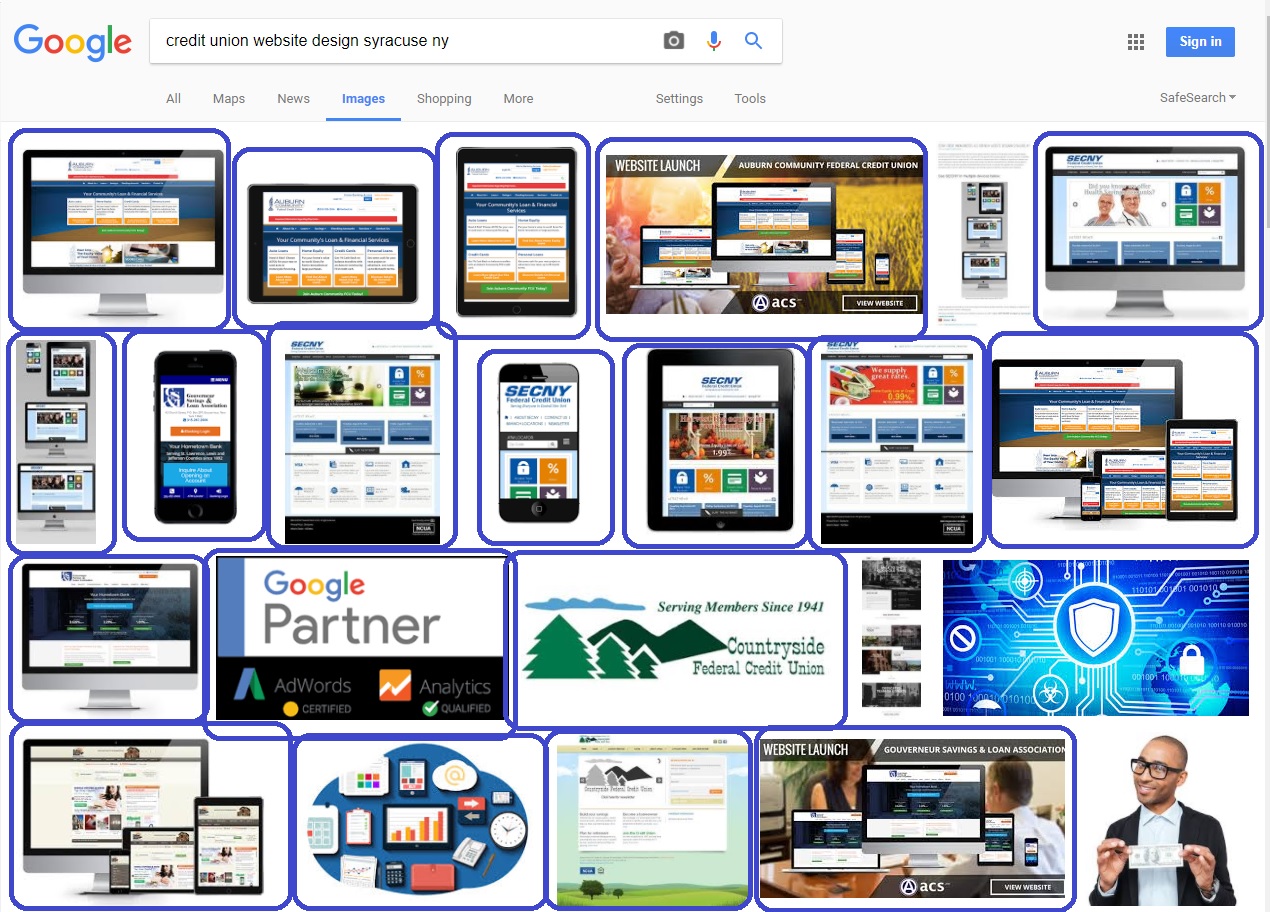 Photo Caption: An example of successful image SEO. ACS, Inc.'s images or website design clients hold 19 of 23 image search result positions for the keyword "credit union website design syracuse ny." All ACS, Inc. images or website design clients are highlighted with a blue outline.
In other words, there are content considerations and technical details to account for when attempting to achieve valuable positions on image search results.

Explore Our SEO Services


Why Image SEO Matters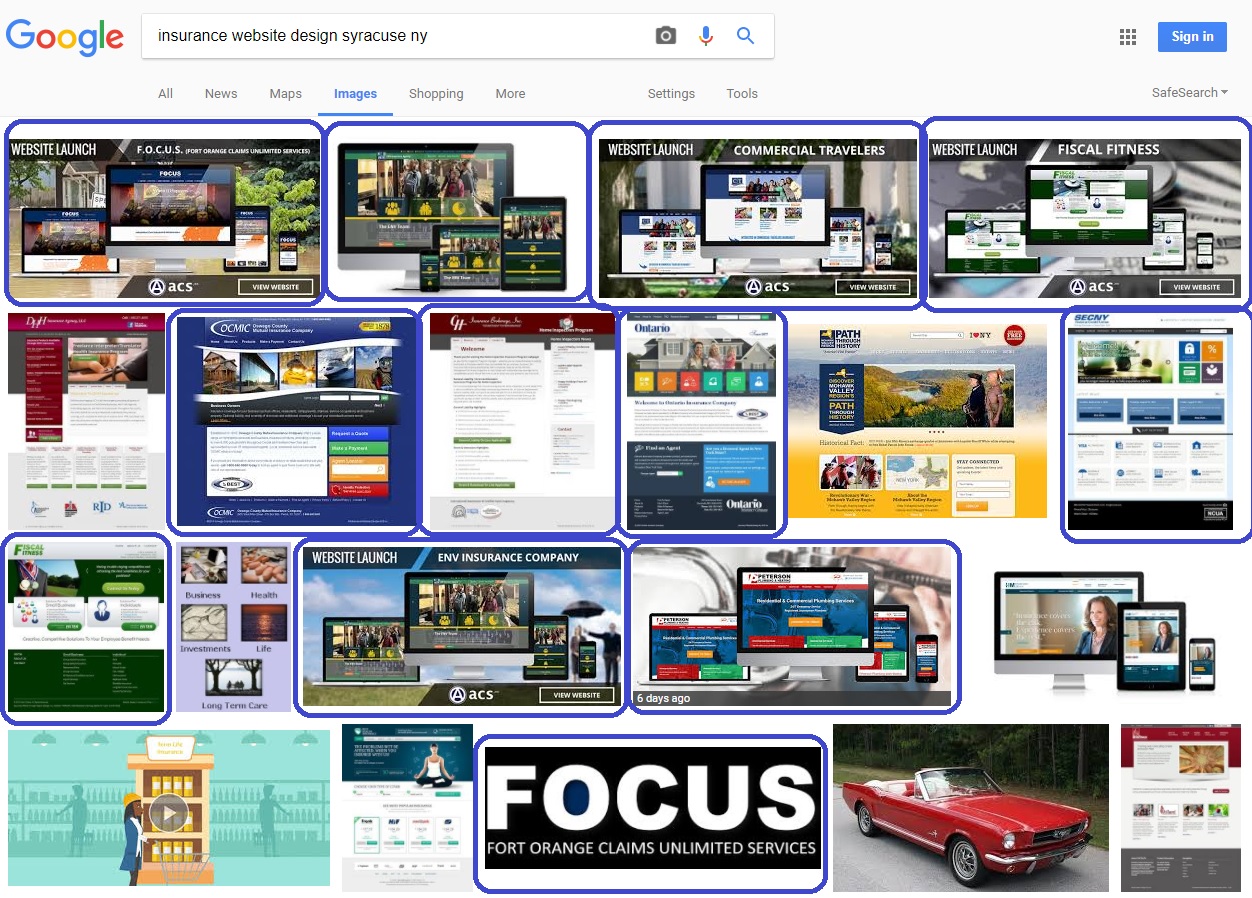 Image SEO is important for many reasons.

Image SEO for Brand Awareness

One way that image SEO is valuable is for brand awareness. For example, the above screenshot shows a Google image search for "insurance website design syracuse ny." 12 of 20 images shown, highlighted with a blue outline, represent ACS, Inc. insurance website design clients.

If someone searching this term were to look further at these search results, they would quickly notice that more than half of the insurance website designs being shown are made by ACS, Inc. This dominance of these image search results provides an impression of authority and industry expertise.

By holding most of the search results for this keyword on Google image search, ACS, Inc. establishes itself as the authority and trusted source for businesses that need insurance website design near Syracuse, NY.

See Our Insurance Web Design Portfolio

Image SEO for Lead Generation

The brand awareness benefits of image SEO can also translate to lead generation benefits. For example, the below Google image search results for "legal website design syracuse ny" shows that 10 of 13 images are for legal website designs made by ACS, Inc.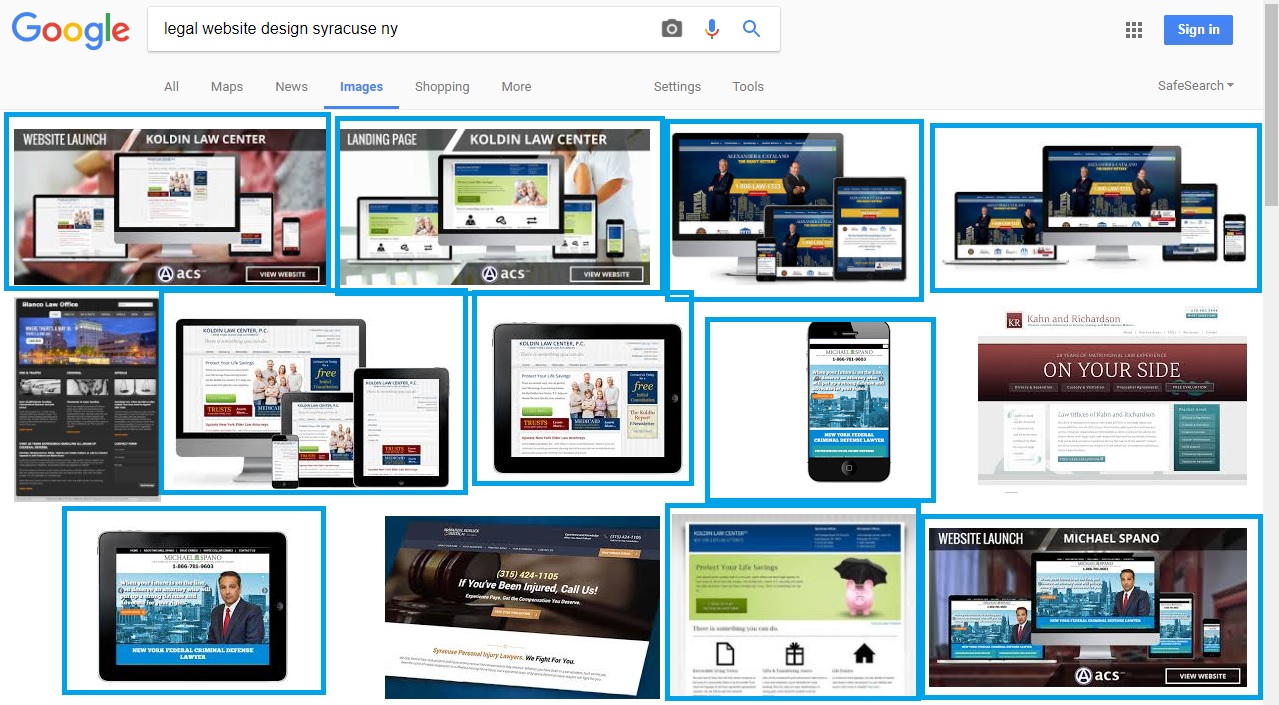 While this delivers the previously discussed value of providing an impression of authority and dependability for this service, exemplifying these values also makes ACS, Inc. an ideal partner for people who are searching with this keyword and need legal website design for themselves or their law firm. This impossible-to-miss presence on these Google image search results makes it clear that ACS, Inc. is capable of providing custom, professional legal website design. 

The above exemplifies how strong positioning on image search results creates brand awareness that is translatable to lead generation.

Do You Need a Professional Legal Web Design? 
See Our Legal Web Design Portfolio

How Our SEO Experts Can Help Grow Your Businessces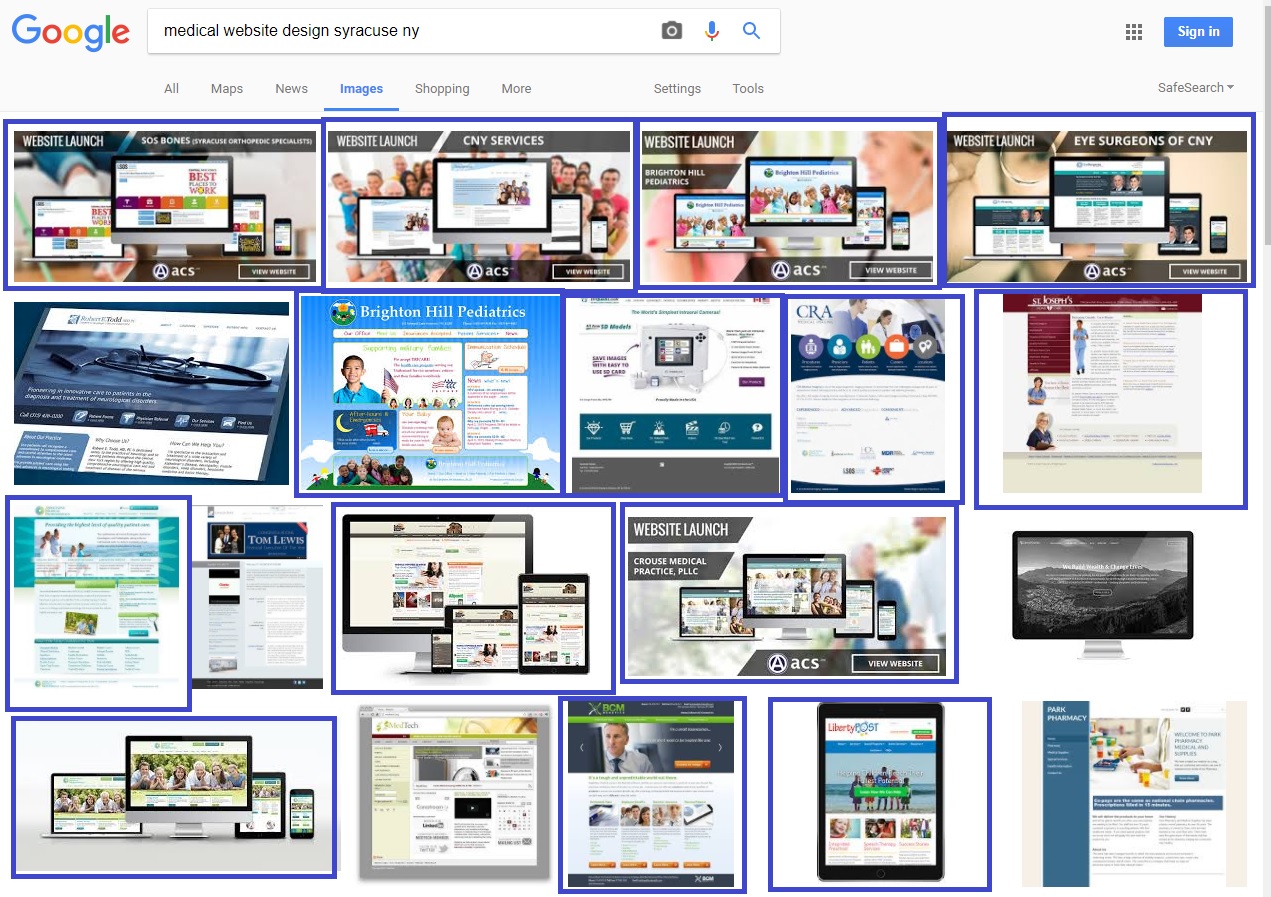 Photo Caption: An example of successful image SEO. ACS, Inc.'s images or website design clients hold 14 of 19 image search result positions for the keyword "medical website design syracuse ny." All ACS, Inc. images or website design clients are highlighted with a blue outline.

Our image SEO and general SEO services work together cohesively to make our clients' the first choice when people are looking for products or services that our SEO clients provide.

Learn How We Achieved 13 #1 Google Positions for Our Client

Our experienced team of SEO professionals have the specialized knowledge and record of results that your business needs to get found when new, potential customers or clients are looking for what you offer. With 89% of people using search engines to do research before they buy, if you don't have an SEO strategy, your competitors could be a customer or client's first choice.

To get found by more new customers or clients, and to increase your leads...

Contact Us