Who Do You Do It For?
Everybody has problems. Today, almost any problem, from hunger to hypertension, can be solved by service providers.
The facts prove that more and more people are using the web to find their problem solvers.
81% of consumers do online research before making a purchasing decision (Ad Week).
77% of patients used search engines prior to booking an appointment (Google).
52% of patients use health information sites for research (Google).
With such a selection of options made possible by the internet, how do you get potential patients to choose you over your competitors?
By Knowing Your Audience
To get more patients, you need to know your audience. What questions are they asking? What information are they looking for? Are there special considerations that should be accounted for to accommodate their needs?
For over 17 years, ACS, Inc. Web Design & SEO have helped current and potential patients connect with our clients, including medical practices, hospitals and health care providers. The result is an online presence that meets patients needs and creates leads.
Eye Surgeons of CNY's Site Accommodates the Visually Impaired
People who need eye surgery are likely to have some sort of vision issues. The medical website design we created for Eye Surgeons of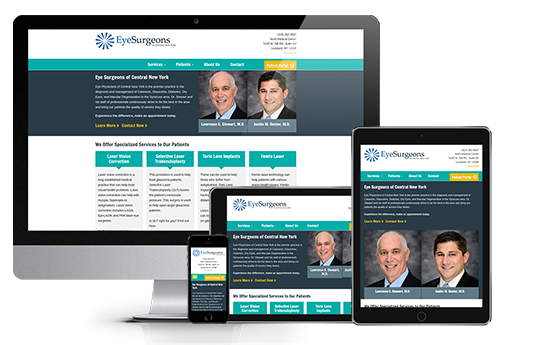 CNY reflects this reality, making the site accessible and effective for meeting potential patients' needs.
Eye Surgeons of CNY's website design is made to accommodate a spectrum of vision health problems, including color blindness, macular degeneration and blurry vision. The site also highlights highly sought after services, making it easy for potential patients to find information about procedures they're considering. Eye Surgeons of CNY's website also meets patient portal regulations and works equally well on smartphones, tablets, desktops and laptops.
Read the full Eye Surgeons of CNY medical website design portfolio here.
SOS Website Emphasizes Ease of Use for the Elderly
Syracuse Orthopedic Specialists (SOS), also needed an audience focused online presence. With a large amount of curr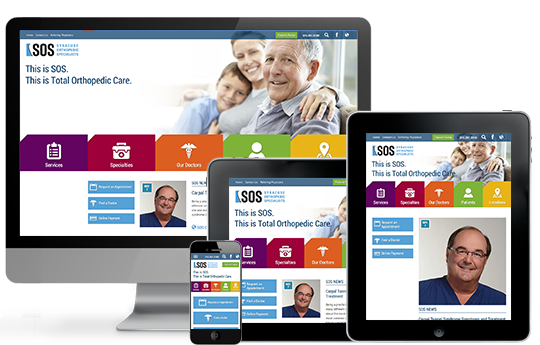 ent and potential SOS patients being elderly, we provided a website design that includes a large, color coded menu to make it easy for people
 to find information they're looking for. These features make the site intuitive for older patients who often face a significant learning curve online.
The site also includes site structure and content that are optimized to achieve high and valuable positions on search engines when people search for services provided by SOS. The SOS site also meets patient portal regulations and is made to look and work flawlessly on all devices.
Learn more about the Syracuse Orthopedic Specialists (SOS) medical website design project.
Get More Patients
Our team of analysts, SEO professionals, expert web designers and elite developers have the knowledge and experience to help you to attract more patients. Our unparalleled analysis phase allows our team to identify your audience, resulting in a medical website design that speaks to patient problems.
To get started on your medical website design project...

Contact Us Now